Welcome to MAINE SCUBA DIVING!
---
Scuba Diving in Maine
and around New England is exciting!
Our underwater scenery can be just as beautiful as our mountain views or the fall foliage.
There are treasures to be discovered if you will don your dive gear and sink beneath the surface with us! We may be famous for our moose and bear, but if you are a scuba diving enthusiast, you can come face to mask with our lobsters! ( Sorry, ... you won't be allowed to keep any you meet, but you'll be able to see them the way only a few people ever do.)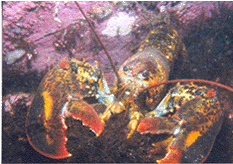 Between dives you might like to visit a lighthouse or one of the maritime museums.
You'll find some links to these sites among our pages.
Maine is for the adventurous diver!
(Choose wisely!)






All photos and video materials on this website are copyright by Dive Maine.
All other use is prohibited.
---
---