NO SUIT !!!

IN MAINE!...Are you nuts?
Ha! Ha! Ha! Go back and put your suit on!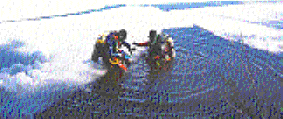 Ice diving is a thrilling experience that requires Special Training.
This dive was made beneath the ice of Highland Lake in Windham, Maine.
Rollins Scuba Associates organized and supervised this excellent dive.
Alright, alright...if you insist on bathing suit only...
you should open the Travel Log!